The engine is the powerhouse of your vehicle and one of the most important systems involved in getting you from Point A to Point B. It's essential that you take good care of it. One way to do so is by scheduling an oil change near you.
At Peacock Hyundai Hilton Head, we help drivers across Hardeeville, Bluffton, and Hilton Head Island with their oil changes and other essential fluid inspections. We look forward to serving you, too!
How Often Should You Change Your Oil?
How Our Technicians Can Help You
When you choose our service center for your next oil change, you'll benefit from the expertise of our team of trained, certified technicians. They have experience working on cars of all makes and models, so you'll be in good hands with them at the wheel.
They'll drain and refill your oil-or top it off, if that's all you need. We have a vast selection of conventional and synthetic oils to choose from, so we can find the oil that's just right for your vehicle. We'll change your oil filter, too, so you can expect clean, debris-free oil for many months to come.
Why Oil Changes Are Important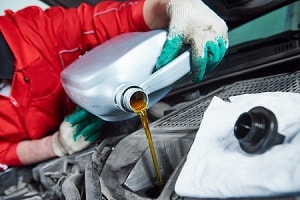 In many respects, oil is the lifeblood of your engine. It's responsible for lubricating all the parts inside your engine to keep it running like a (literally) well-oiled machine. Without clean oil, those parts will wear out quicker and the engine itself can easily overheat from all the friction.
Change the engine oil from time to time-for most cars, roughly every six months or 6,000 miles-and you can reduce the risk of either of these safety and performance issues materializing. Engine repairs can be quite costly, but with routine oil changes, it's a problem you won't be worrying about on your daily drive.
Schedule an Oil Change near Me
If your oil is due for a change (and you can check it with the dipstick yourself), schedule oil service at the Peacock Hyundai Hilton Head Service Center. We're happy to help motorists across Hardeeville, Bluffton, and Hilton Head Island with their next oil change.
When you're ready for an oil change near you, we look forward to seeing you!