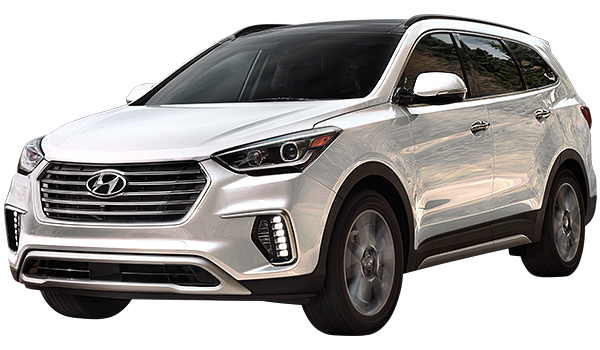 2017 Hyundai Santa Fe
2016 Acura RDX
 The
2017 Hyundai Santa Fe
delivers the style and strength that Hilton Head Island drivers have been looking for. It has a supercharged engine, great dynamics, incredible room, and details that undoubtedly make a difference. With fantastic appeal for families, travelers, and sports enthusiasts, this is another standout vehicle for Hyundai and for its class. To be sure, let's compare it to one of its competitors: the 2016 Acura RDX.
Awesome Performance
The 2017 Hyundai Santa Fe is ready for adventure when you are. Whether it's a planned road trip across the country or a spontaneous adventure, the Santa Fe has all the power you need to get you there. Here's what you can expect from each car:
2017 Hyundai Santa Fe: A 290-hp 3.3L V6 engine with 252 lb. ft. torque keeps the 2017 Santa Fe strong and hardy on any terrain. FWD six-speed automatic transmission with SHIFTRONIC® settings, and a 5,000 lbs. towing capacity enhance its capabilities and driving options.
2016 Acura RDX: The 279-hp 3.5L engine with 252 lb. ft. torque that forms the Acura RDX's core doesn't power it as effectively as it should. Its six-speed transmission isn't as sharp, and with only a towing capacity of 1,500 lbs., there's not as much versatility as a vehicle of its class should bear.
Expansive Features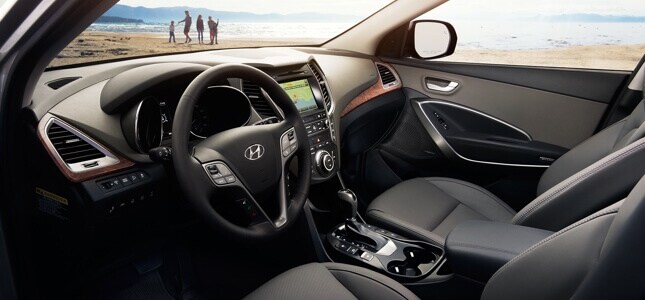 Cargo and occupant room is distinctively greater in the 2017 Santa Fe, giving everyone the space they need for comfort and convenience: 
2017 Hyundai Santa Fe:  Seating for six or seven amidst three rows is the icing on the cake for the 2017 Hyundai Santa Fe's appeal. The rear dimensions are just as lovely in the front with 39.9" head, 56.7" hip, and 59.4" shoulder rooms, and cargo volume is an impressive 80 cu. ft., with the back rows folded. Second row seating is 40/20/40, and third row is a split-fold bench that adds to storage when necessary. The innovative Dynamic Bending Light system boosts driver focus and peace of mind, while everyone happily keeps their devices and equipment consistently charged with four 12V outlets and a third row USB power point.
2016 Acura RDX: Seating only goes up to five, and and in two rows in the 2016 Acura RDX, which highlights a considerable distinction between the two vehicles. Front dimensions are smaller than in the Santa Fe, at 38.7" head, 55.7" hip, and 58.7" hip rooms, and cargo volume is 61.3 cu. ft. maximum. There aren't comparable nifty features such as the lighting system and plethora of charging points, that nicely complement what SUV drivers prefer and need.
Hilton Head Hyundai has Your 2017 Santa Fe
Contact Hilton Head Hyundai to choose the 2017 Hyundai Santa Fe that's perfect for you! You can stop into our 51 Auto Mall Blvd., Hardeeville, SC showroom Monday through Sunday, call us at 800-494-6905, or use our
online form
to message us about this great SUV. See for yourself why it's better than the 2016 Acura RDX in every way, and clearly a favorite in our region!