2016 Hyundai Genesis
2016 Audi A6
Savannah, Beaufort and Hilton Head Island drivers in search of a bold and exciting vehicle may be considering the 2016 Hyundai Genesis or the 2016 Audi A6. After a deeper comparison of the two vehicles it will become clear why the Genesis offers more value and luxury at a lower price than the A6. Before you make your final decision, speak with one of our knowledgeable sales consultants and arrange a test drive so that you can see everything the Genesis is able to do for you firsthand.
Performance and Economy
When it comes to both performance and economy, the Genesis is the clear winner. The A6 offers a base 252 hp engine that delivers up to 35 mpg on the highway. If you want more horsepower, you will need to reach deeper into your pockets and upgrade to its supercharged 333 hp engine. This comes at a cost though as the upgraded engine only delivers 30 mpg on the highway. The Genesis, however, comes standard with a 311 hp 3.8L V6 engine that offers 29 mpg on the highway, so you are able to take advantage of more power without upgrading while still benefiting from comparable fuel economy. Want more power? Upgrade to the 420 hp V8 engine and leave the A6 in the dust.
Safety
When it comes to safety, Hyundai has you covered with technologies that include available lane departure warning, lane change assist, blind spot detection, rear cross-traffic alert and high beam assist. These features simply aren't available on the A6, making the Genesis the clear choice when considering safety and responsibility.
Space and Utility
The Genesis offers 123 cubic feet of interior space, which leads its entire class. It also provides luxurious leather appointed surfaces and heated and ventilated seats so that you can remain warm in the winter and cool in the summer. It is also designed to know your needs as soon as you do with a trunk that opens automatically when sensing your presence and the world's first C02 sensor, which detects and eliminates carbon dioxide from the cabin so that you always have a breath of fresh air.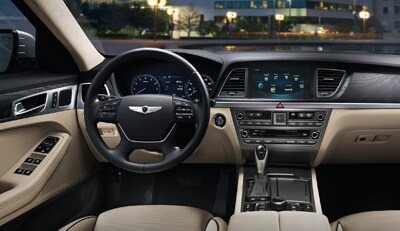 Price
The Genesis provides exceptional value with a starting MSRP of $38,750, which is well under the $46,200 starting price for the Audi A6. If you are looking for the more affordable option without sacrificing value, the Genesis is the perfect car for you.
Test Drive the Genesis Today
The only way to see why Savannah, Beaufort and Hilton Head Island drivers prefer the 2016 Hyundai Genesis over the 2016 Audi A6 is to take the Genesis for a test drive. Ask your sales representatives about our flexible financing options or apply for financing online to eliminate the hassle. You will find that it is easier than ever to drive away in the vehicle of your dreams!