Learn About Hyundai Financing near Hilton Head Island
Here at Peacock Hyundai Hilton Head, one of our top goals is to make the car buying process as smooth as possible for our Bluffton customers. Once our friendly sales staff has helped you find your dream vehicle, you may find yourself apprehensive about the finance process. Try not to worry. Our finance team is knowledgeable and well-connected with several types of lenders. That puts us in a position to help you find the best financing for your particular circumstances. Whether you decide to buy or lease, we want you to feel comfortable with your decision. That's why we've put together this summary of both options.
Why Buy?
Some people take great pride in owning their vehicle. They take great care of it, add custom accessories, and look forward to that last payment. If you're one of these folks, traditional financing may be your best bet. Buying a car lets you make modifications as you wish and drive as many miles as you choose each year. You can decide to sell it any time that's right for you or keep it for as long as possible, perhaps having several payment-free years.
Pros of Leasing
On the other hand, many Beaufort drivers appreciate the flexibility that leasing can offer. If you enjoy that new car smell and like to have the latest models, a lease is a hassle-free way to get an upgrade every few years. You'll also need less money down with a lease. Plus, you can expect maintenance costs to stay low due to the fact that your lease comes with a great warranty, and you'll be driving the car in its maintenance-free years.
Visit Us
Are you ready to talk about Hyundai finance options? Stop by and see the team near Hilton Head Island. We're here to help you find the perfect vehicle for your lifestyle and to make sure paying for it is stress-free.
Our Customer-Centered Approach
There's no denying that our customers are the heart of our business. We want to approach financing on your terms, which means starting with a discussion of what you're hoping to get from your plan. From monthly payments to lease/loan terms, we want to find the plan best suited to your needs.
Also, keep in mind that we're happy to answer all your financing questions. Whether you're curious about the finer points in the leasing vs. buying debate or you want to learn how to build up your credit before financing, we'll be right here to explain the details. We want you to walk in with your eyes open!
Our Convenient Finance Application
When you find a car you like, you can set the finance process in motion easily by applying for pre-approval. It's quick and easy, and you can do it all online. When we have your application in hand, our finance team will give it a quick and thorough review, and we'll be in touch to get the ball rolling.
Even if you've already secured financing through your local bank or credit union, it's still worth it to apply through us. We may be able to get you lower rates. If you're considering refinancing an existing auto loan at current, lower rates, feel free to apply and we'll see what we can do for you!
Your Budget and Finance Made Easy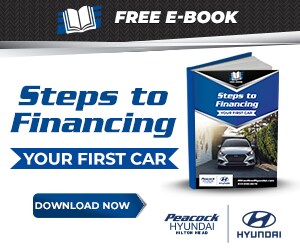 There's no need to fret about finance at our dealership, as we have several online tools designed just for customers like you. Ready to trade in your current ride? Use our Value Your Trade calculator to estimate its rough value, so you have an idea of how much you can deduct from your financing costs.
What exactly are those financing costs? Use our Payment Calculator to crunch the numbers ahead of time and see how your monthly payments will shape up based on the cost of the car, the loan term, and your down payment. Play around with it and test out different figures to see what produces the best value for you.
Schedule a Visit at Our Finance Center
Ready to talk financing? Be sure to reach out to the friendly folks at our finance center when that moment in your car-shopping adventure arrives. We'll find you the perfect car loan or Hyundai lease deal for your dream car, whether it's a Hyundai Tucson, Santa Fe, or something else entirely.
You can do it all here at Peacock Hyundai Hilton Head, your dealer serving Hardeeville, Bluffton, and Hilton Head Island. We look forward to serving you!