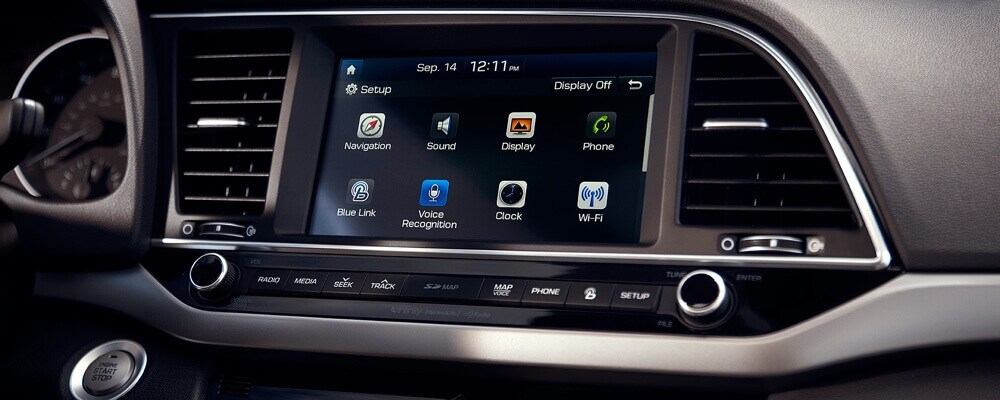 These days, every new vehicle seems to come equipped with the "latest technology features," the "most cutting-edges technologies," or a "selection of advanced tech-devices." What sets the
2017 Hyundai Elantra
apart is that it actually does. Comparing the technological sophistication of the 2017 Hyundai Elantra to other makes and models simply isn't worth the time because the Hyundai Elantra is light years ahead. Read on to learn what the 2017 Hyundai Elantra has to offer you. 
Technological Features in the 2017 Hyundai Elantra 
In addition to the powerful safety technologies that this vehicle provides, the 2017 Hyundai Elantra also offers an array of technologies to keep you informed and entertained: 
Apple CarPlay Support and Android Auto - With these two features, the Hyundai Elantra enables you to plug your smartphone directly into your vehicle, allowing you access to your phone's music, its messaging service, and its maps, turning your car into the very extension of your phone. 
Infinity Premium Audio with Clari-Fi - Unavailable in any other car in the 2017 Hyundai Elantra's class, this feature gives you 8 speakers as well as unbeatable sound quality. 
SiriusXM Satellite Radio - Standard in all trims of the Elantra, you'll be given access to a wide variety of music and news with SiriusXM. 
Blue Link Connectivity - Blue Link lets you keep in touch with your Elantra no matter where you are using a smartphone or smartwatch, enabling you to retrieve updates on the status of your car and issue it directions remotely. Not only that, but Blue Link will send out distress signals and request assistance in the event of a collision or accident. And with Destination Search, you can use Google to locate a restaurant, theatre, or landmark, and then send the directions to your Hyundai. 
USB Inputs - Have no fear of losing power on your iPhone en route to your next destination: with these USB inputs, you can recharge any of your mobile devices whenever necessary. 
Explore Your Options at Hilton Head Hyundai 
Explore these new technologies for yourself by
test driving
a 2017 Hyundai Elantra today. Simply visit our Hilton Head Hyundai dealership, located at 51 Auto Mall Blvd. in Hardeeville, SC, or call to arrange a visit at 800-494-6905. Experience the very latest in automotive connectivity in the 2017 Hyundai Elantra.